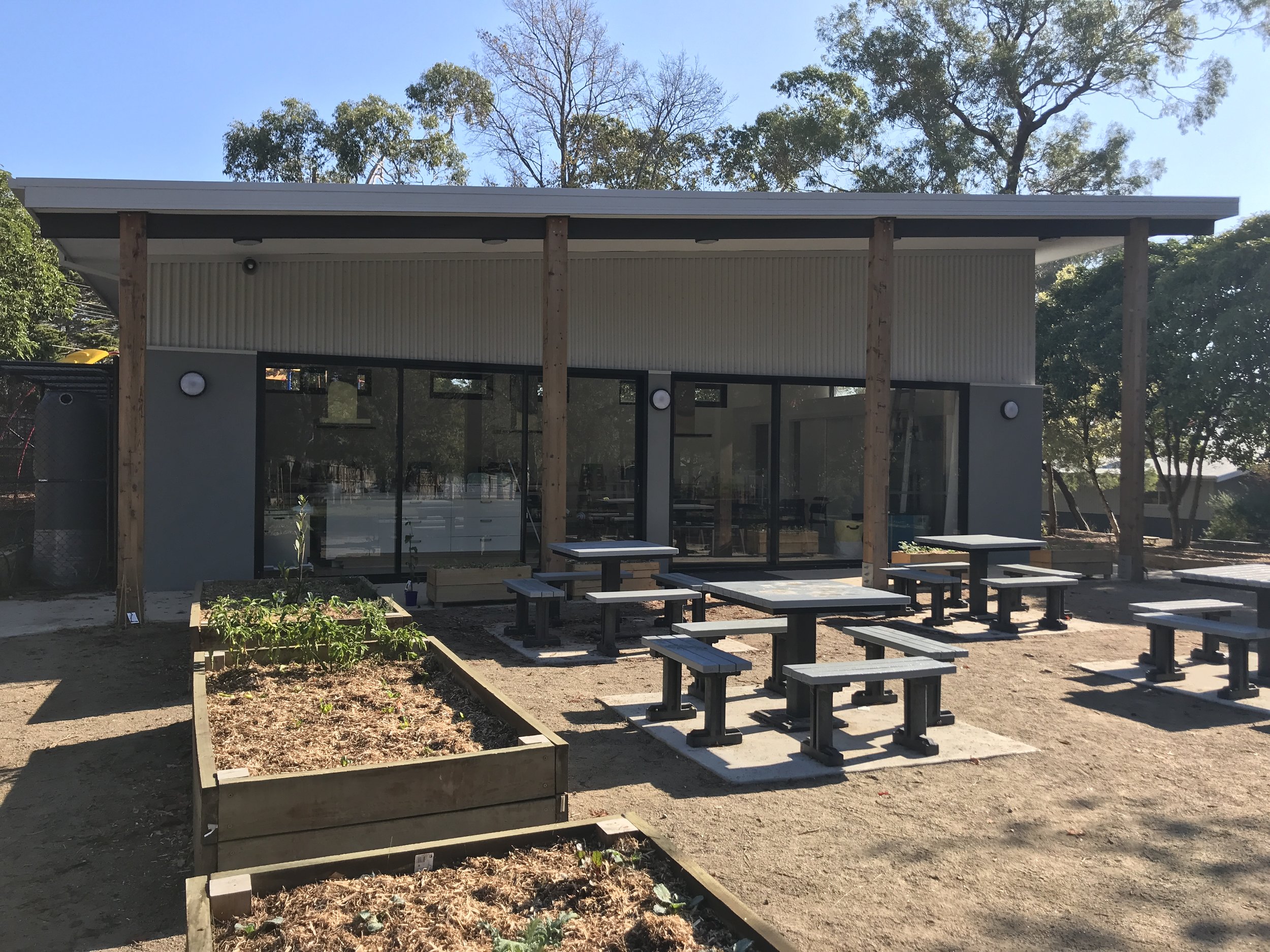 We are very proud to finally announce the opening of Natasha's Kitchen - Derinya's new Kitchen Garden - purpose built to teach the students of Derinya about healthy food and where it comes from. Our students will spend time in the kitchen and garden - planting, harvesting and preparing a meal to share with one another. In the process, they will learn what it takes to grow their own vegetables, look after chickens as well as the importance of kitchen safety.
What is Pleasurable Food Education?
Pleasurable food education is underpinned by the philosophical belief that children who are regularly engaged in activities in the garden and kitchen, and are invited to the table and encouraged to taste and to learn about nutritious food, will grow to embrace fresh, seasonal flavours.
They will understand much about the natural world and how to relate to others, and look forward to a healthy future.
In schools and centres delivering pleasurable food education, students grow, harvest, prepare and share. They create a productive organic garden, they grow and harvest the food, they prepare the food and they sit together to taste and share what they have made.
WHO IS NATASHA?
Natasha Jansz was a Derinya Mum (mother of Timothy) that dedicated a lot of her time in helping Derinya in a variety of different ways and sadly died from cancer in 2017. To repay the school for their support of Timothy throughout her final years, Natasha wasn't able to rest until she secured funding for Derinya to build a dedicated Kitchen Garden. Not long after the funding came through Natasha passed away. Without her tireless efforts in chasing the Premier and Ministers, Derinya wouldn't be the place that it is today. We would like to thank Natasha for everything she did to help Derinya and would like to name the Kitchen in her honour.
(EXTRA) VOLUNTEERS NEEDED
Derinya's Kitchen Garden Program relies heavily on volunteers (parents, grandparents etc.) in order to succeed. Occasionally we may have a need for extra volunteers (outside of your own child's class). If you are willing and able to volunteer for other classes, please click the button below and fill out the form to register your interest. Thank you.
volunteer information
Once you've been selected as a volunteer for the Kitchen garden, you will need to download and read the following documents:
Here's a link to the wonderful leak and silverbeet pizza the kids have been making in the kitchen, as well as a great recipe for pizza base.
LEAK & SILVERBEET PIZZA RECIPE